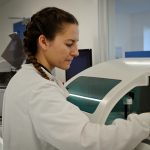 We are seeking an additional laboratory technician to support the current team in the daily analysis of clinical specimens from horses.
We perform daily testing Monday-Saturday in haematology, biochemistry, endocrinology, microbiology, parasitology and serology. We are especially interested in applicants with a good knowledge of working in clinical (human or veterinary) diagnostic laboratories.
HOURS
This position is offered on a full or part time permanent contract (Monday-Friday) and includes working Saturdays on a rota basis for which time off in lieu is provided.
LOCATION
You will be based in the laboratory at the Liphook Equine Hospital and due to the rural location own transport is essential.
The hospital requires that a very high standard of service is provided and previous experience in clinical laboratory diagnostics is ideal. Although team-work is an important facet of the role, there will also be a requirement to perform techniques competently without supervision.
A competitive salary package is offered.
Please submit applications including a covering letter and current cv along with details of your current salary and package to Andy Durham, Clinical Director, Liphook Equine Hospital, Forest Mere, Liphook, Hampshire GU30 7JG or by email to andy.durham@theleh.co.uk.